"This is really IRRITATING" - Juliet


Oh no! A Dark Purveyor has corrupted the page!
Contribute all you can to this page to stop the Dark Purveyors and prevent the wiki from getting overran by Zombies! .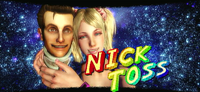 The Nick Toss is one of the moves that Juliet can do with Nick. It is the first move obtained by Juliet that can be used via a Nick Ticket. The Nick Toss is characterized by Juliet bouncing Nick's head on her foot, before spinning his head with a blue string, circling him around her. Not only does Juliet rapidly circle herself with Nick's head, but will jump and kick nearby zombies as she does.
While not exceptionally powerful, the Nick Toss can stun any undead in a 360 degree radius around Juliet when used.
Juliet will kiss Nick two times when Nick Toss is activated, so this move can get the player the Love Nick achievement/trophy more quickly.